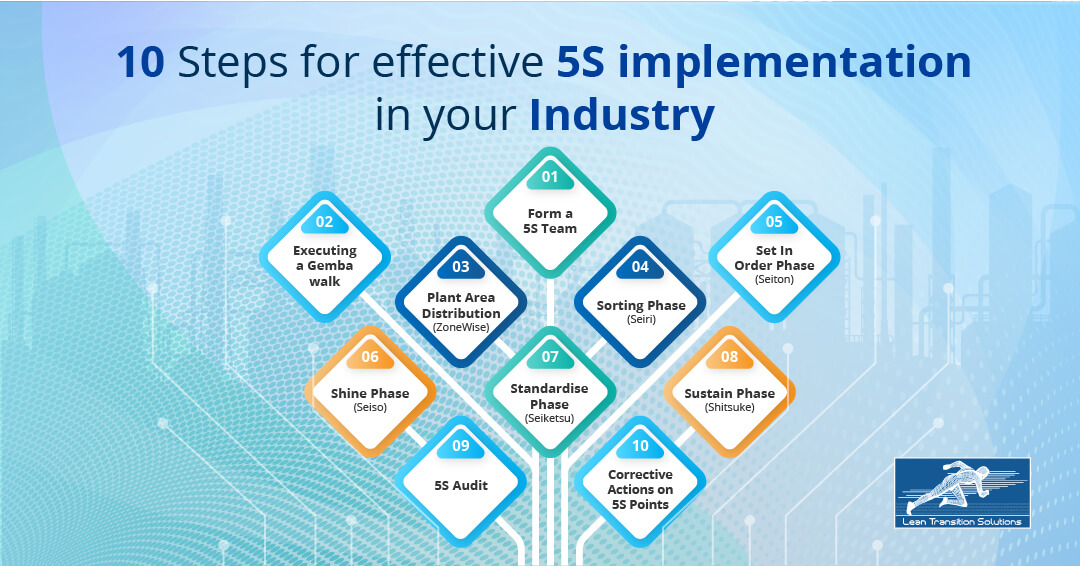 When it comes to manufacturing operations, achieving maximum productivity and efficiency is essential for gaining a competitive edge. A messy and disorganised shop floor can lead to wasted time, increased errors, and decreased overall output. Therefore, it's crucial to implement the 5S methodology, which can significantly enhance workplace efficiency by organising the workspace, maintaining cleanliness, standardising procedures, and reducing waste.
Manufacturers can revolutionise their shop floor operations and unlock new levels of efficiency by embracing the 5S principles. Let's discover how 5S can drive increased productivity, enhance safety standards, and promote a streamlined and harmonious work environment on your shop floor.


5S in Lean Methodology
In the Lean Methodology, the concept of 5S is essential for improving workplace organisation and efficiency. The 5S stands for Sort, Set in Order, Shine, Standardise, and Sustain - guiding principles that form the backbone of this technique. The 5S methodology involves creating a well-organised, clean, and safe workspace through systematic processes.
The first step is to Sort, eliminating unnecessary items. Set in Order ensures everything has a designated place, while Shine focuses on cleanliness and housekeeping. Standardise aims to establish consistent procedures, and Sustain focuses on maintaining these improvements over time. Conducting 5S audits and implementing effective management strategies are essential for promoting continuous improvement and upholding high 5S standards in the workplace.
Safety can be considered as the 6th "S" in Lean. It is sometimes added to the original 5S methodology to emphasise the importance of workplace safety. Incorporating safety into the 5S process guarantees that safety concerns are given utmost importance in all activities and that the welfare of employees is given top priority.


10 Simple Steps for 5S Implementation
Form a 5S Team: To begin the process of implementing 5s, it is important to establish a committed 5S team. This team will lead, coordinate, and execute the entire 5S process. The team should consist of individuals from various departments and levels within the organisation to ensure a comprehensive perspective and smooth implementation. It is essential to have representatives who understand the current workflows, processes, and challenges in different plant areas. The team will also drive the cultural change required for successful 5S implementation.


Executing a Gemba walk: Before diving into the 5S process, conducting an initial plant walkthrough is crucial. This involves performing a Gemba walk, which means going to the actual workspace where the work is being done. The purpose of Gemba is to observe and gather information about the current state of the plant. During the Gemba walk, the 5S team and leaders should engage with employees, ask questions, and gain insights into the existing work environment, practices, and potential improvement areas.


Plant Area Distribution (Zone Wise): Following a Gemba walk, the plant is segmented into various zones according to its design and the nature of tasks carried out in each section. Each zone is then assigned to a particular team member who takes charge of implementing the 5S methodology. Assigning zones to team members helps to clarify responsibilities for maintaining cleanliness and organisation, establish accountability, and promote standardisation.


Sorting Phase (Seiri): The Sorting phase, also known as Seiri, focuses on decluttering and eliminating unnecessary items from the workspace. Team members in each zone identify and separate items essential for the current operations from those no longer needed. Red tags are commonly used in this phase, where items marked with red tags are considered obsolete. After identifying those unnecessary items, the team decides whether to dispose of, relocate, or store them appropriately. The goal is to create a clutter-free and efficient workspace that contains only the necessary tools and materials.


Set In Order Phase (Seiton): In the Set In Order phase, also called Seiton, the goal is to methodically and effectively arrange the items needed for ongoing operations. During this phase, the team determines the best locations for tools, equipment, and materials. Every item is given a specific place, and visual aids like shadow boards, labels, and floor markings indicate where the items should be stored. Such an organisation reduces the time spent searching for tools and enhances overall workplace efficiency.


Shine Phase (Seiso): The Shine phase, or Seiso, involves cleaning and thoroughly maintaining the workspace and equipment. To achieve this, the team should create a regular cleaning schedule that involves everyone in the area. Doing so will not only improve the appearance of the workplace but also help identify potential safety hazards and equipment issues that can be resolved promptly. A clean and organised environment boosts employee morale, improves productivity, and shows a dedication to quality.


Standardise Phase (Seiketsu): The Standardise phase, or Seiketsu, aims to establish standardised processes and practices for 5S across all zones in the plant. The team collaboratively develops guidelines, checklists, and visual standards that clearly define the expectations for each 5S element. Standardisation ensures consistency in implementation, making it easier for employees to follow the 5S principles throughout the organisation. Regular training and communication ensure everyone understands and adheres to the established standards.


Sustain (Shitsuke) Phase: The Sustain phase, or Shitsuke, is the most critical step in the 5S implementation process. It involves creating a culture of continuous improvement and long-term commitment to 5S principles. The 5S team and leaders should work on reinforcing the 5S practices by providing feedback and rewarding employees who actively maintain the 5S standards. Sustaining 5S requires ongoing effort and dedication from all levels of the organisation.


5S Audit: The 5S audit systematically assesses each zone's adherence to the 5S principles. Audits are typically conducted at regular intervals, and they involve evaluating the condition of the workplace, compliance with standardised procedures, and overall adherence to the 5S methodology. The 5S team and representatives from other departments perform the audit using a predetermined checklist. The audit findings help identify areas that need improvement and provide insights into the effectiveness of the 5S implementation.


Corrective Actions on 5S Points: The final step involves taking corrective actions based on the findings of the 5S audit. Identified issues and opportunities for improvement are addressed promptly. The 5S team works with employees and leaders to implement necessary changes, reinforce training, and refine processes. Continuous improvement is at the core of this step, as the aim is to enhance the 5S practices continually and sustain a clean, organised, and efficient workplace.


Benefits of 5S implementation
Improved workplace organisation and cleanliness

Increased efficiency and productivity

Reduced waste and unnecessary downtime

Enhanced safety and reduce workplace accidents

Streamlined processes and smoother workflow

Improved employee morale and engagement

Enhanced quality and fewer defects

Easy identification of tools and materials, leading to time savings

Standardised practices and procedures

Cultivation of a culture of continuous improvement


Why use 5S Methodology?
The 5s methodology improves workplace organisation, efficiency, and safety. It provides a systematic approach to decluttering, organising, and standardising workspaces, reducing waste, increasing productivity, and better utilisation of resources. By promoting cleanliness and discipline, 5S fosters a positive work culture that encourages continuous improvement. Its structured approach enhances employee morale, reduces accidents, and creates a safer working environment. The 5S methodology is a powerful tool for optimising processes, increasing quality, and achieving operational excellence.


5S Tools
Red Tags: Utilised for labelling items that are no longer required or unused, facilitating the sorting process.

Shadow Boards: Designed to effectively arrange tools and equipment by providing designated spaces that make it easy to identify missing items.

Visual Controls: Implemented through colour coding, labels, and signs to pinpoint the correct location for tools and equipment swiftly.

Cleaning Checklists: Ensuring cleanliness and tidiness of the workspace, maintaining the shine aspect of 5S.

Standardised Work Procedures: Enforcing uniformity in task execution to ensure consistency across all team members, promoting the standardisation aspect of 5S.

Floor Marking Tape: Employed to mark boundaries, aisles, and storage locations, facilitating the set-in-order aspect of 5S.

Kanban Systems: Efficiently managing inventory levels, ensuring optimal resource utilisation and minimising waste.

Visual Management Boards: Displaying Key Performance Indicators (KPIs) and progress toward goals, supporting the sustainability of improvements achieved through 5S.


How can you sustain 5S in your organisation?
To sustain 5S in your organisation:
Establish a clear commitment from top leadership to promote the 5S principles continuously.

Engage and involve all employees by providing training and fostering a culture of ownership and responsibility.

Regularly review and audit the 5S practices to identify improvement areas and promptly address deviations.

Encourage open communication, feedback, and recognition of 5S efforts to maintain enthusiasm and motivation among the workforce.

Integrate 5s into daily routines and standard operating procedures to embed it as a core part of the organisational culture.
To maintain the benefits of 5S in the long run, it is essential to consistently emphasise its significance and incorporate it into the organisation's practices.
Implementing the 5S methodology can bring about noteworthy advantages for organisations, including enhanced workplace efficiency, productivity, and safety. Establishing a visually organised and standardised environment is important to achieve this. Teams can ensure continuous improvement and streamline processes with the help of visual cues, huddle boards, and Gemba walks.
When 5S methodology becomes part of an organisation's culture and routine processes, it promotes teamwork and a shared dedication to achieving goals with excellence. Implementing 5S principles can result in significant positive changes in the workplace, leading to increased success, better collaboration, and improved organisational performance.