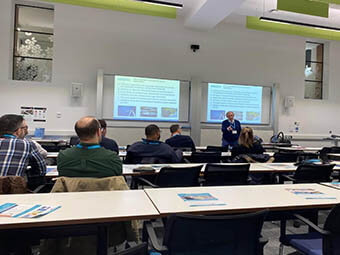 The launch of the new 'must-have' book from industry's leading Lean consultants Peter Willmott, Andy Brunskill and John Quirke "TPM, A foundation for Operational Excellence" was held at the University of Birmingham on 7 February 2020. The book aims at providing meaningful insights on how to deliver sustainable benefits using the TPM enabling systems. Also it makes an important remark that, digital and technologically driven Industry 4.0 revolution is just an enabler and that it is our people who will continue to make the difference.
The book focuses on three target areas within a particular Business Enterprise; they are The Business Leadership Team, the Continuous Improvement & Engineering Specialists, and the 'Practitioners' at the sharp-end of that Business Enterprise. Using the TPM System as the bottom-up 'enabling tool' to help deliver the company's business drivers, vision, values and culture.
Brett Griffiths, founder
Lean Transition Solutions
Ltd U.K, who has many years of experience in OpEx, lean manufacturing, lean transition, people development, and growth programs, was part of the launch and reviewed the book saying,
"I have been in the lean arena for over 35 years and travelled many countries to see operational excellence in practice. When it comes to TPM there are few that do it well. This book "TPM: A foundation of Operational Excellence" is a great bible if you really wish to transform your organisation. You will continue to pick this book up as a great reference guide to help you navigate through the modern challenges with culture, leadership, people and technology. The art of any sustainable process is "habit" and this book offers guiding principles to develop those habits. Congratulations".
As Brett has mentioned "TPM: A foundation of Operational Excellence" is an excellent handbook which enables the transformation of an enterprise. Implementing the basics of TPM in organisations helps them get closer to Industry 4.0, the future realm of all industries and manufacturing sectors. The term Industry 4.0 describes a vision of future production, which aims at creating highly efficient processes in the industry. Brett, being an exponent of industry 4.0, starts the implementation in different sectors by training them in the fundamentals of TPM. The integration of TPM with industry 4.0 is inevitable, as one serves as the foundation for the other. TITAN CMMS by Lean Transition Solutions is a software designed to help organisations achieve Total Productive Maintenance (TPM) goals as well as Overall Equipment Efficiency (OEE) which indeed foresees the vision of industry 4.0, the digital transformation in marketing.
To know more about the book you can visit SA Partners website, and get your copy of "TPM, A foundation for Operational Excellence" from Amazon.