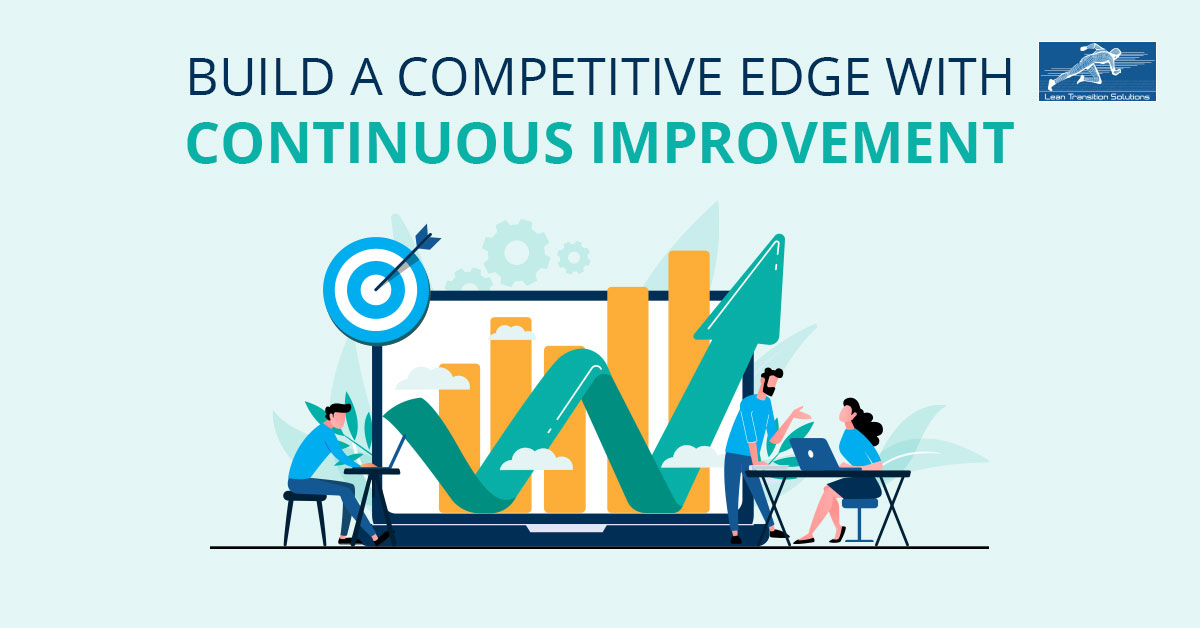 "Continuous improvement is better than delayed perfection."– Mark Twain.
Continuous Improvement (CI) is an ongoing and inevitable process in an organisation's journey to achieve Industry 4.0 transition. Organisations have been following the idea of continuous improvement to enhance their operations at different levels. To progress in this competitive world, organisations must understand where they are in their industry 4.0 journey and CI maturity. A closer look at the CI initiatives reveals the impact that they can have in delivering the promised industrial transformation.
To gain an advantage on a competitive edge, organisations must constantly watch their operations and performance. The more they realise the importance and inevitability of CI initiatives, the more they gain an advantage over their competitors. It is also important that the aspect of CI must be communicated across all areas of businesses and treated as a disciplined strategy. To successfully activate Industrial Transformation in an organisation, continuous improvement must occur in three key areas, people, processes and technology. The people do the work, processes make the work more efficient, and technology automates the processes and helps people carry out their work. Proven records of successful CI implementation focus more on people and technology as they are considered the real promoters to process improvement. Organisations that are very keen on implementing and driving Continuous Improvement initiatives see benefits such as;

Improved product quality
Increased productivity and efficiency
Decreased cost
Reduced waste
Employee satisfaction and teamwork
Customer satisfaction
Trending CI Tools to Boost Overall Efficiency!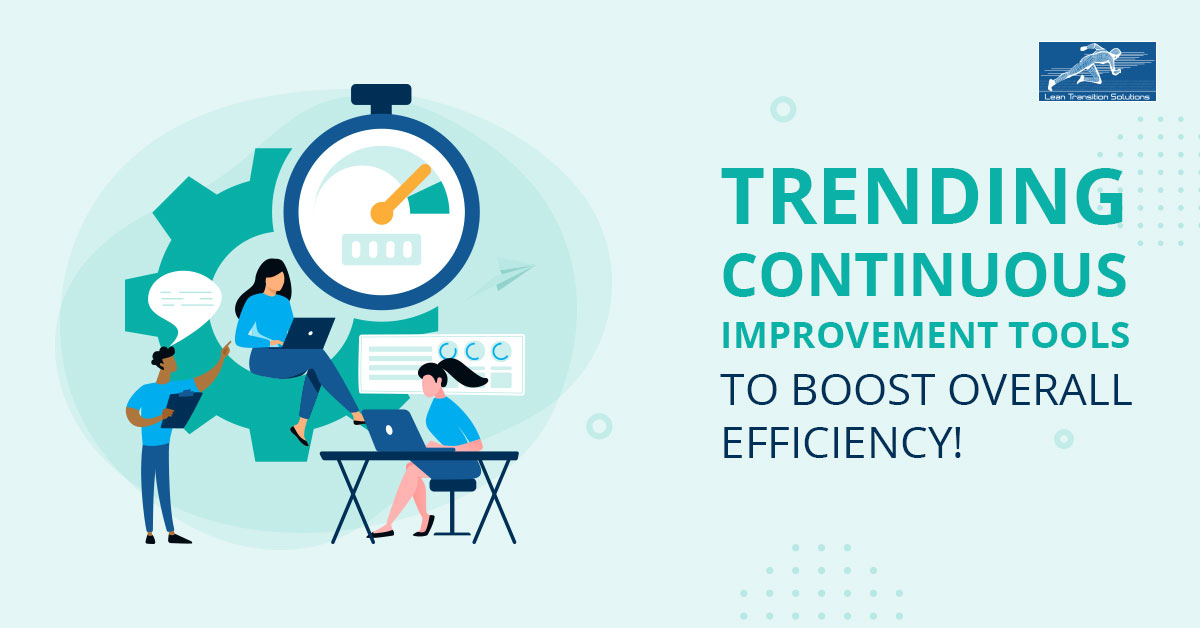 Organisations need to adapt and respond to change to move ahead in this competitive world. To transform organisations and their operations digitally is the need of the hour. As we know, the future is all about smart and smarter factories, and all of them look forward to being ahead of the competitive edge. Let us have a look at the trending continuous improvement tools and how they enhance business operations.
1. 5S Audit and Assessment App
Organisations have adopted the 5S system to ensure continuous and sustainable growth. Over the years, the 5S principles have proved to be effective. 5S ensures maximum productivity is achieved and reduce waste. 5S audit and assessment app analyses the performance of the manufacturing facility and ensures continuous improvement by evaluating 5S implementation at the workplace.
2. DMAIC Cycle
Define, measure, analyse, improve, and control (DMAIC) is a data-driven quality strategy used to improve processes. DMAIC cycle is an integral part of Six Sigma initiatives and can be implemented as part of lean initiatives and continuous improvement processes. Organisations use the cycle for improving, optimising and stabilising business processes.
3. Catch Ball
Catchball is an effective lean technique used to drive continuous improvement within an organisation. The idea of the catch ball technique is to initiate a process change, define its purpose, aim, challenges and toss it across the organisation to gather feedback and views from employees of all departments and teams. The ball bounces back and forth till the improvement or plan is complete.
4. Gemba Walks
Gemba walks provide an overview of the ground-level reality and the challenges faced. Gemba walk is one of the five Lean guiding principles and should be practised daily. It helps maintain lean practices and ensures continuous improvement. Analyse existing strategies and identify ways to avoid wasteful activities and improve overall development.
5. Hoshin Kanri
Hoshin Kanri is a management tool for continuous improvement. Hoshin Kanri communicates strategic goals and plans throughout the organisation, evaluate the ongoing process and suggests improvements. Hoshin Kanri aims at improving organisational alignment. Continuously monitor the process and eliminate waste that occurs due to lack of communication and inconsistent direction.
6. Kanban System
Kanban System acts as a cornerstone for continuous improvement. It provides a visual demonstration of the ongoing process and ensures there is no interruption in the flow. Kanban system helps organisations identify opportunities to improve processes, eliminate waste, and increase efficiency.
7. Value Stream Mapping (VSM)
Value Stream Mapping gives a clear picture of how efficient business processes are and identifies opportunities to improve performance and reduce waste. VSM gives a visual representation of current processes and future improvements that can be made to improve efficiency. As the process improves, VSM will be updated, and new ways for improvement will be identified. It is n ongoing and continuous process.
8. PDSA
PDSA (Plan-Do-Study-Act) is a four-stage effective and simple approach for continually improving products, services, processes, and problem-solving. The cycle can be repeated again to achieve further improvement. The PDSA cycle consists of four elements:

Plan – Collect relevant data and identify the problem/opportunity for change. A hypothesis is formed.
Do – Identify a solution and implement it. This is an experimental stage.
Study – Analyse the results and measure their effectiveness. Results are compared with the hypothesis.
Act – If successful, implement the solution on a wider scale.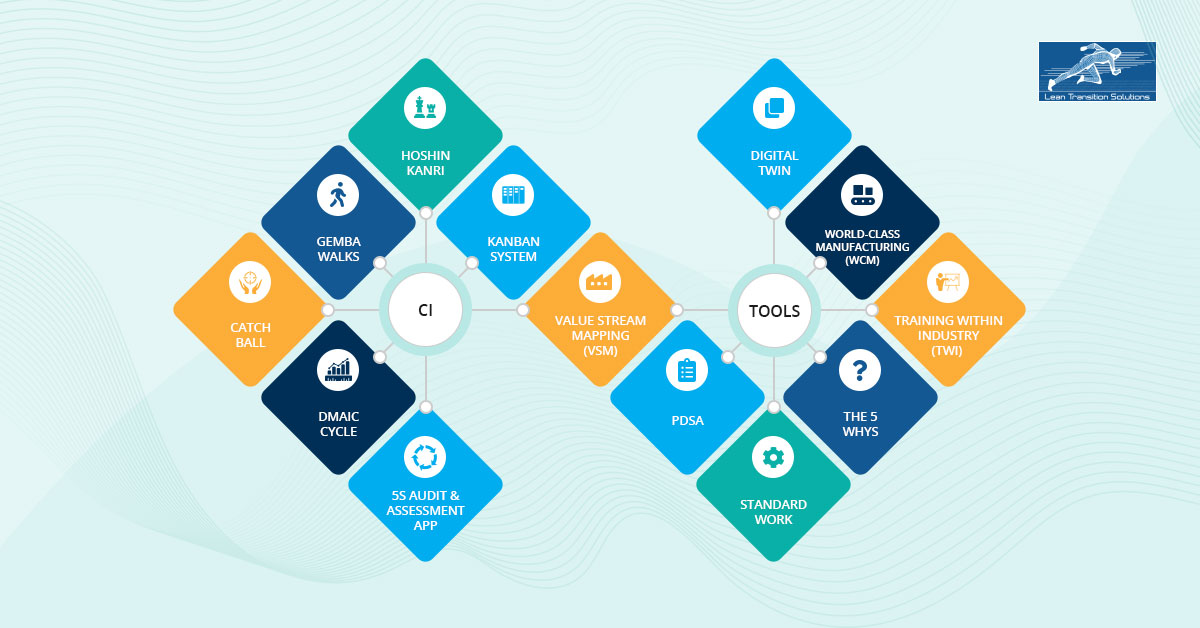 9. Standard Work
Standard work acts as the baseline for continuous improvement. Standard work creates, clarifies, and shares information about the best practices for any task or process. It is an ongoing process where everyone continues to improve standards and identify new ways to enhance already practising standards. The ultimate aim is to eliminate waste in the value chain and maximise performance.
10. The 5 Whys
5 Whys is a powerful technique to address the root cause. It allows organisations to uncover the real problem faced in procedures, processes or standard work. The team creates a problem statement and asks 'why' until the real root cause for the problem is revealed. This will help the organisation address and eliminate the root cause.
11. Training Within Industry (TWI)
Training Within Industry (TWI) is an effective and systematic way to teach or train individuals within the organisation. In the journey to achieve the vision of a Lean Enterprise, TWI acts as the foundation of 'Standard Work', the baseline for continuous improvement. The main focus is on developing people and creating a culture of continuous improvement.
12. World-class manufacturing (WCM)
World-class manufacturing (WCM) insists on improving the process, products and services to enable organisations to be the industry leaders. Organisations implemented lean initiatives to be the best, fastest and most efficient industry in the global market. Organisations use WCM to improve operations, eliminate waste and increase productivity continuously.
13. Digital Twin
Digital Twin is one of the most important Industry 4.0 technology. In simple terms, it is a replica of the physical world. Digital twin allows organisations to evaluate and explore processes, systems, and other physical assets and their impact on organisational growth. It gives accurate information on what is happening now and what might happen in the future by analysing data. By predicting an outcome, the system eliminates all chances of failures in newly implemented continuous improvement initiatives, and drives change within the organisation.
Driving Digitisation Across the Organisation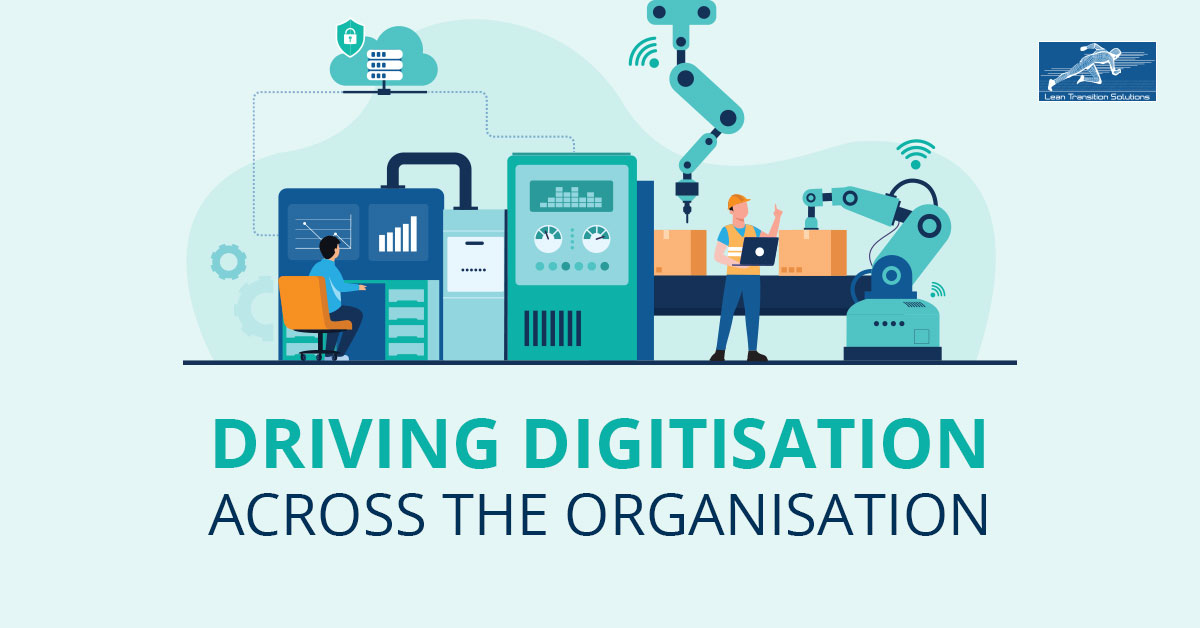 Research suggests that small-mid sized businesses are not ready for the industrial digital transformation, and the result - they are already behind in technological advancement. Irrespective of the type or size of businesses, continuous improvement and digitisation elevate how an organisation operates and continuously identify improvement methods. Data acts as the main driver of continuous improvement, and therefore it should be organised and be readily available to process and produce desired results. The steps to digitise organisation starts from implementing change initiatives at the bottom level of an organisation. It is an ongoing process that should be continuously monitored to ensure that the organisation can handle the proposed changes. Innovation and Technology will continue to progress quickly than ever before. If organisations don't advance in their journey of Industry Transformation, they will be left behind in the race. By adopting a continuous improvement mindset, organisations will set a more successful trajectory for their businesses.